News
Product Updates, Announcements, Fraud Alerts, Community Events and More! Follow us on Facebook for more financial advice, scam alerts and bank updates.
Farmers Bank & Trust Announces Scholarship Recipients
Farmers Bank & Trust is proud to assist employees and their families as their dependent students attain educational goals. Under this program, qualified applicants will receive a $500 scholarship on an annual basis, providing up to four years of financial support for under-graduate degrees. Congrats to the scholarship recipients and good luck in the upcoming school year!
Kristy Wittig - Barton Community College
Alicia Enriquez - Barton Community College
Evan Seltmann - North Central Kansas Tech
Olivia Rugan - University of Kansas
Samantha Kleweno - Fort Hays State University
Camron Zerr - University of Kansas
Manasvi Chennareddy - University of Kansas
Farmers Bank & Trust Celebrates 115 Years of Strength and Stability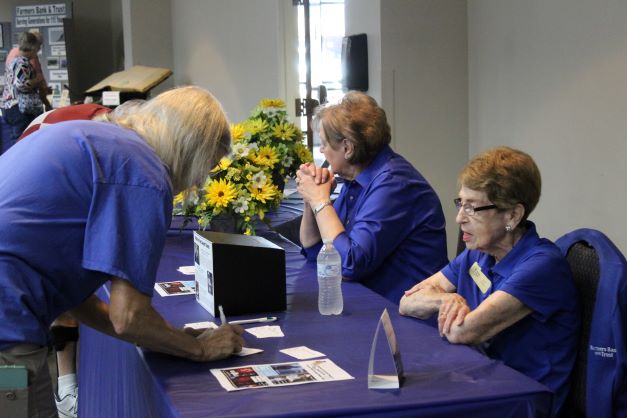 Farmers Bank & Trust celebrated 115 years with Community Appreciation Event at the Great Bend Events Center on July 7th, 2022. This annual event has been a huge success over the years, and a great opportunity to give our gratitude to the community we serve. Sunflower Diversified kept the grill going, as hot dog meals were served to 100's of customers and community members. On display at the event was a history of Farmers Bank & Trust's long legacy including a Ledger Book that was used many years ago to track customer and bank balances.
Farmers Bank & Trust celebrates 115 years of providing personalized solutions to generations of neighbors and friends. The Bank extends a sincere "Thank You" to our customers and communities for letting us serve you throughout the years. Additionally, the Bank wishes to recognize our amazing employees because their passion and interest in going above and beyond for our customers is the key to our success.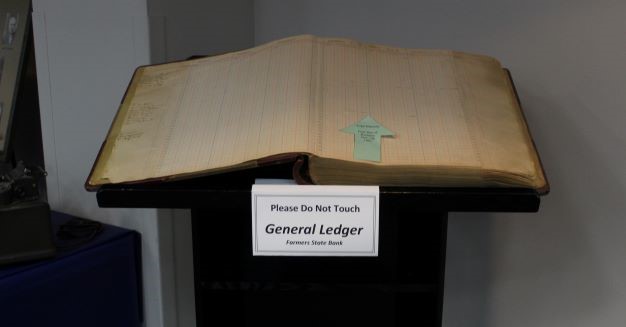 Farmers Bank & Trust 5-Star Rated Bank

Great Bend, KS - April 2022: Farmers Bank & Trust, Great Bend, Kansas has earned a top (5-Star) rating from BauerFinancial, Inc., the Nation's Premier Bank Rating Firm. Banking on the community while its neighbors and friends bank with it has been a winning combination for Farmers Bank & Trust. Working together towards common goals and interests has allowed Farmers Bank & Trust to excel under an in-depth, independent analysis of its financial condition and earn this coveted 5-Star rating. Read more...
April 28th is Teach Children to Save Day
Its never too early to start teaching children about the importance of savings. That was the message Lindsay Barton conveyed to a group of 1st graders when presenting Teach Children to Save activities. Lindsay and other Farmers bank employees visited local elementary schools and provided them the opportunity to create their savings goals and decorate a container for saving for that goal.
The American Bankers Association has resources available for any age group to help shape the conversation around financial skills. Visit https://www.aba.com/advocacy/community-programs/finedlink
Consumer Financial Protection Bureau-COVID 19 testing scams
The Consumer Financial Protection Bureau (CFPB) recently provided information on an ongoing scam around COVID-19 testing. See their tips below to avoid any potential scams.
"Scammers are preying on people looking for COVID tests. Some fraudsters are offering unauthorized test kits. Others are setting up phony testing sites to steal your personal information. The sites may look real with tents and hazmat suits – but then you don't get the test results, you're charged for a "free" test, or they use your information for identity theft.
What to do: To avoid COVID testing scams, keep in mind:
Do not give your Social Security number or passport number in order to get a COVID test.
Find legitimate testing sites. Check with your state or local health department or your doctor.
Look for FDA-authorized test kits. Check the FDA's list of authorized antigen tests and PCR tests before buying. Now, you can get four free COVID test kits per household at COVIDtests.gov . Plus, insurance companies are required to cover the costs of up to eight over-the-counter COVID tests per month for each covered person.
When shopping online for test kits, pay by credit card. If you're charged for an order you never got, or for a product that's not as advertised, you can contact your credit card company and dispute the charge ."
Farmers Bank & Trust Celebrates 25 years of Charity Coffees
With 27 local charities present, Farmers Bank & Trust presented their annual charity coffee on December 8th. All participating charities walked away with money, with the largest donations of $500, $400, $300 going to Habitat for Humanity, RSVP - Volunteers in Action, and Kansas Children's Service League. Thank you to Marc and Diana Webster for providing the music for the event and all of the Farmers Bank & Trust employees who make this event possible. Last but not least, a big thank you to all of the non-profit organizations that work so hard to provide their services to our community throughout the year.
FLINT Factor Award – Presented to Farmers Bank & Trust
On August 7, 2021, Flint, the Kansas Bankers Association's buffalo mascot, is a representation of the important role that banks play within each Kansas community. This is the true image of community bankers, which are the foundation on which excellence thrives within Kansas communities. KBA recognizes Farmers Bank & Trust as the embodiment of the Flint Factor.


Covid–19 Updates
Banking Safely
For the safety of our customers and employees, we ask that customers who are not feeling well, bank by phone or by using our electronic options. We would like to encourage our customers to use safe social distancing practices, including continued use of the drive-thru, whenever possible. Should you need to enter the bank's lobby, please adhere to social distancing guidance and maintain at least six foot distance between yourself and other customers. We are asking our employees refrain from shaking hands or having customers use the bank's phones for their protection. If you require the use of a medical mask, please understand we may ask you to remove it for identification purposes. For security purposes, full face masks will not be allowed in the lobby.
Our commitment to serving you is our top priority. We will continue to monitor these evolving circumstances and will update you on any changing developments as needed. Thank you for being a valued customer of Farmers Bank & Trust. Below are electronic banking products and customer service info to help you bank safely from home.
Learn more about all the great e-Services from Farmers Bank & Trust
Mobile Banking
Manage your money on the go with your mobile device
Zelle®
Send money with Zelle
Education Center
Links to calculators, financial education & more!
e-Statements
Go paperless to reduce clutter