News
Product Updates, Announcements, Fraud Alerts, Community Events and More! Follow us on Facebook for more financial advice, scam alerts and bank updates.
Lights, Camera, Save! Teen Video Contest by the ABA is underway at Farmers Bank & Trust
Winner eligible for a $5,000 grand prize!
Farmers Bank & Trust is participating in the American Bankers Association (ABA) Foundation's Lights, Camera, Save video contest for teens ages 13-18.
Entering is Easy!
Three National winners of Lights, Camera, Save! will receive awards of $1,000, $2,500 or $5,000 from the ABA Foundation.
No purchase necessary. Void where prohibited. Contest open to legal U.S. and D.C. residents who live in the U.S. or D.C. and are between ages 13 and 18 as of October 1, 2023. Contest begins October 1, 2023 and ends December 1, 2023. For entry forms or more information about this contest, including the Official Rules, which govern this contest, contact our bank or visit LightsCameraSave.com. Limited to one entry per person.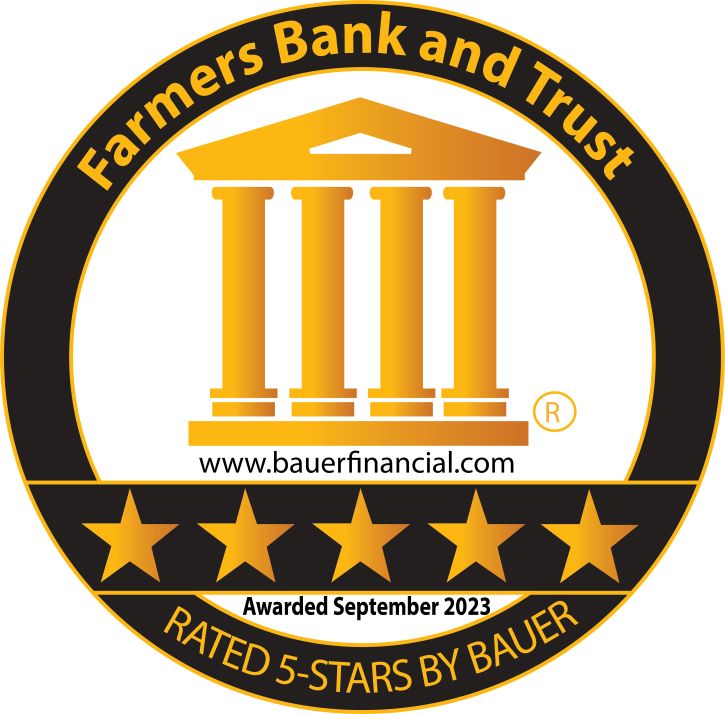 Great Bend, KS - September 2023: Farmers Bank & Trust, Great Bend, Kansas has earned a top (5-Star) rating from BauerFinancial, Inc., the Nation's Premier Bank Rating Firm.
Working together towards common goals and interests has allowed Farmers Bank & Trust to excel under an in-depth, independent analysis of its financial condition and earn this coveted 5-Star rating.
Another Data Breach?
Don't Get Data Breach Fatigue.
Spend a moment thinking about how many entities have your personal identifying information. You likely provided it to them for a legitimate need, like a loan or credit card application or a medical claim. These organizations have data on millions of individuals, and we trust them to maintain the security needed to protect it for us. If you add to the list of companies those that only have your name, email and home address, and credit card information, that's essentially every website from which you've ever made an online purchase.
The list just got a lot longer, and the security of small retail websites is typically more lax than that of large medical or financial ones. Hackers spend their lives searching for a way in, using sophisticated techniques to get through cyber security measures and steal valuable information from entities of all types.
Now, think about the last time you received an email that started something like this: "We are writing to you because of an incident involving access to information…" It probably wasn't very long ago. We might even receive so many notifications or hear so many news reports regarding breaches that could affect us that we're becoming apathetic.
"It's just part of life now," we might say. Or "It's a risk of being online in 2023." However, we can do more than cross our fingers and hope ours isn't the next information that gets sold to the highest bidder.
To read more click here: Data Breach
Community Appreciation Barbeque
Thank you to everyone who attended our Community Appreciation Barbeque in Great Bend!
We appreciate all our customers and communities we serve.
IRS Warns Taxpayers of New Scam
The IRS is alerting taxpayers of a new scam involving a mailing directing the individual to send various pieces of sensitive information in order to collect unclaimed tax refund money.
Teach Children to Save
Its never too early to start teaching children about the importance of saving. That was the message Jason Dellett and Tonia Parker conveyed to a group of elementary students in La Crosse when presenting Teach Children to Save activities. Farmers Bank & Trust employees recently visited several local elementary schools and provided them the opportunity to think about their savings goals and decorate a container for saving toward that goal.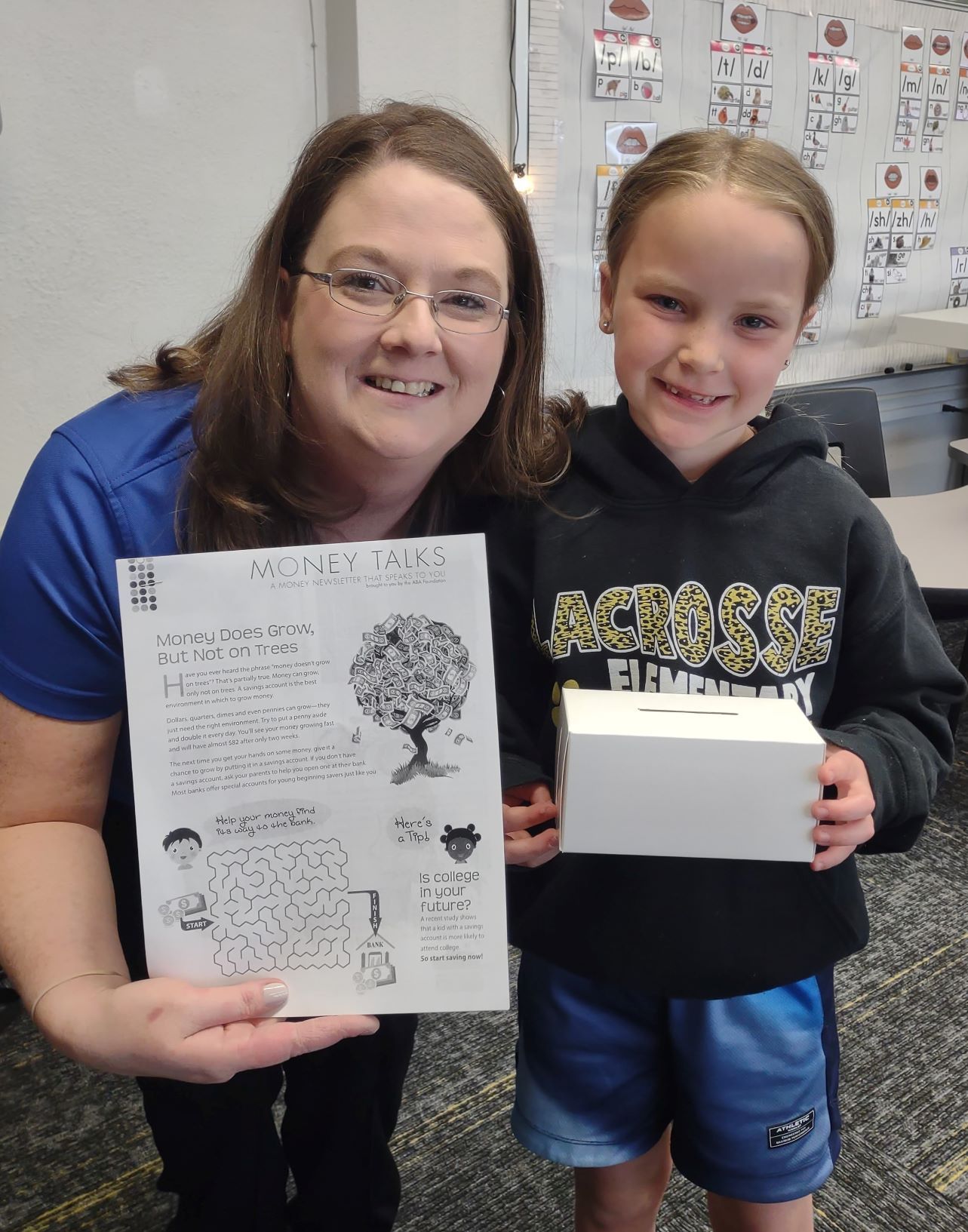 Farmers Bank & Trust employees are happy to speak to groups about a variety of financial education topics. If you are interested in a group presentation, please reach out to your local branch.
Farmers Bank Hosts 26th Annual
Charity Coffee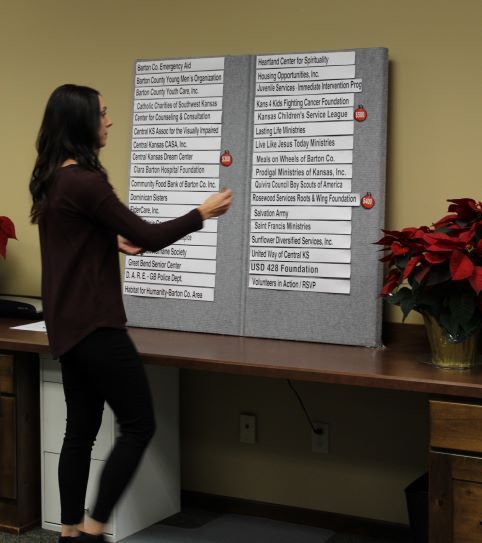 Over 30 local, non-profit organizations gathered in the lobby of Farmers Bank & Trust on December 7th for the annual Charity Coffee. Music presented by Marc and Diana Webster entertained the crowd up until the event began. By the end of the event, $4750 had been given out, with no charity leaving empty handed.
Additional donations were given by Farmers Bank & Trust in memory of former Board Member Grady Bolding to the Family Crisis Center and a donation was given to the Dominican Sisters of Peace by the Robbins Family in memory of Yvonne Robbins.
Farmers Bank & Trust donates to
Central Plains Childcare Network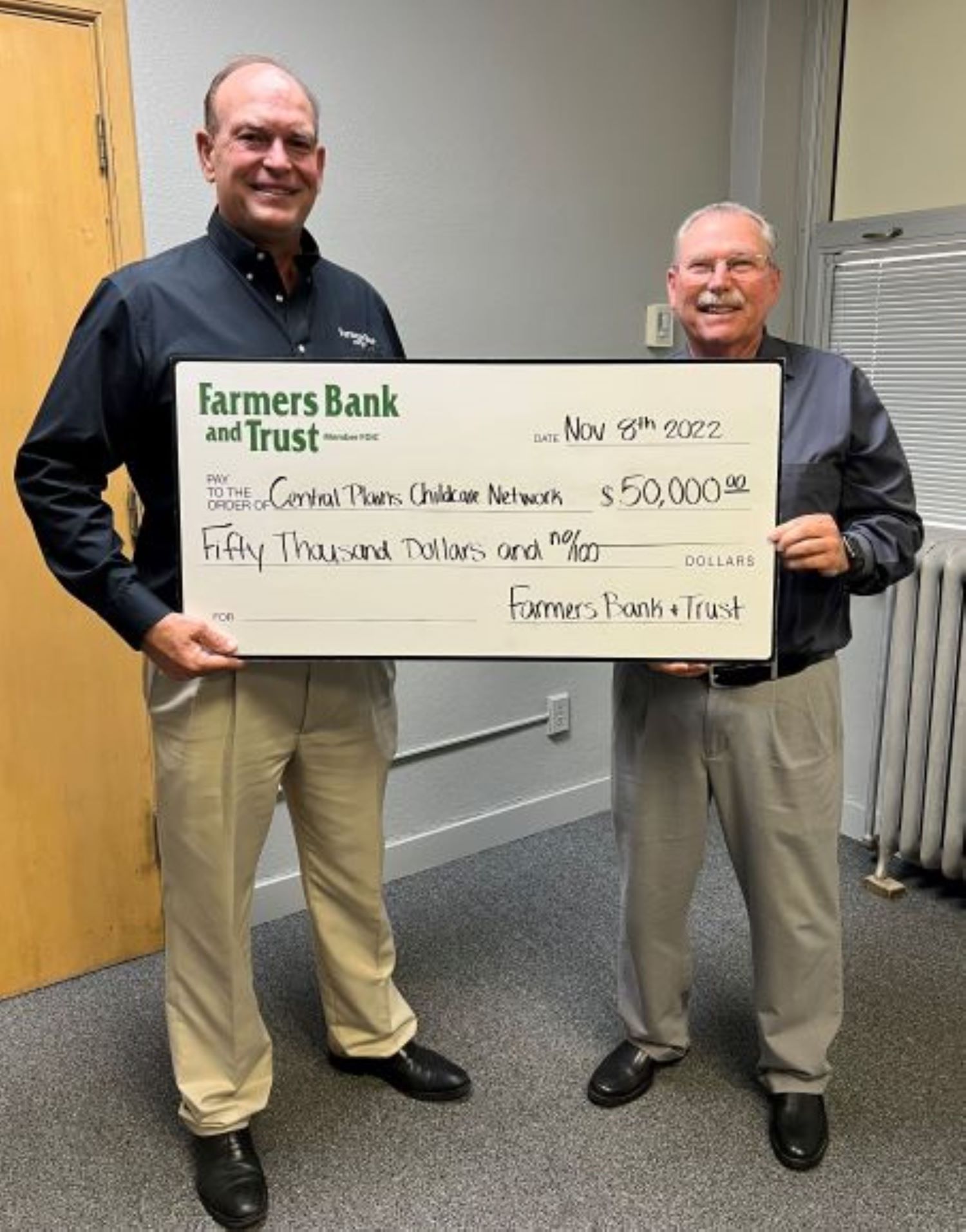 Farmers Bank and Trust is excited about this opportunity for investment in the Claflin Community and other communities we serve. We recognize the challenges faced with child care needs and are honored to be able to assist in this worthy endeavor. In 2021, Farmers Bank & Trust gave a similar donation to the Golden Belt Community Foundation to help address the shortage of child-care opportunities.
Farmers Bank & Trust Announces Scholarship Recipients
Farmers Bank & Trust is proud to assist employees and their families as their dependent students attain educational goals. Under this program, qualified applicants will receive a $500 scholarship on an annual basis, providing up to four years of financial support for under-graduate degrees. Congrats to the scholarship recipients and good luck in the upcoming school year!
Kristy Wittig - Barton Community College
Alicia Enriquez - Barton Community College
Evan Seltmann - North Central Kansas Tech
Olivia Rugan - University of Kansas
Samantha Kleweno - Fort Hays State University
Camron Zerr - University of Kansas
Manasvi Chennareddy - University of Kansas
Learn more about all the great e-Services from Farmers Bank & Trust
Mobile Banking
Manage your money on the go with your mobile device
Zelle®
Send money with Zelle
Education Center
Links to calculators, financial education & more!
e-Statements
Go paperless to reduce clutter