News
Product Updates, Announcements, Fraud Alerts, Community Events and More! Follow us on Facebook for more financial advice, scam alerts and bank updates.
October is CyberSecurity Awareness Month
Customers lost over $3.3 billion to phishing and other fraud in 2020. Make sure you don't fall victim by taking this interactive phishing quiz from the American Bankers Association.
Review this Cybersecurity awareness tip sheet to learn more about Identity Theft and Internet scams.
Notice of Proposed Legislation
Congress is considering a sweeping expansion of tax information reporting that would raise some questions about your right to privacy. The proposal, if enacted, would require banks to report to the IRS detailed information on the inflows and outflows of every customer account above $600.
Congress is expected to vote on this new proposal in the coming days.
If you oppose such a proposal, we encourage you to contact your lawmakers at this link provided by the American Bankers Association: aba.social/ContactCongress.
FLINT Factor Award – Presented to Farmers Bank & Trust
On August 7, 2021, Flint, the Kansas Bankers Association's buffalo mascot, is a representation of the important role that banks play within each Kansas community. This is the true image of community bankers, which are the foundation on which excellence thrives within Kansas communities. KBA recognizes Farmers Bank & Trust as the embodiment of the Flint Factor.
Pictured: Karesa Harrison receives the FLINT Factor Award on behalf of Farmers Bank & Trust.
Covid–19 Updates
Economic Impact Payments
If you have not received your stimulus, please click here to go to the IRS website to determine how your funds were sent. If the website reflects a wrong account number or you do not receive a check, you can claim the Recovery Rebate Credit on your 2020 Tax Return. Track your payment or learn more at https://www.irs.gov/coronavirus/get-my-payment.
Banking Safely
For the safety of our customers and employees, we ask that customers who are not feeling well, bank by phone or by using our electronic options. We would like to encourage our customers to use safe social distancing practices, including continued use of the drive-thru, whenever possible. Should you need to enter the bank's lobby, please adhere to social distancing guidance and maintain at least six foot distance between yourself and other customers. We are asking our employees refrain from shaking hands or having customers use the bank's phones for their protection. If you require the use of a medical mask, please understand we may ask you to remove it for identification purposes. For security purposes, full face masks will not be allowed in the lobby.
Our commitment to serving you is our top priority. We will continue to monitor these evolving circumstances and will update you on any changing developments as needed. Thank you for being a valued customer of Farmers Bank & Trust. Below are electronic banking products and customer service info to help you bank safely from home.
Celebrating 50 years of Local Ownership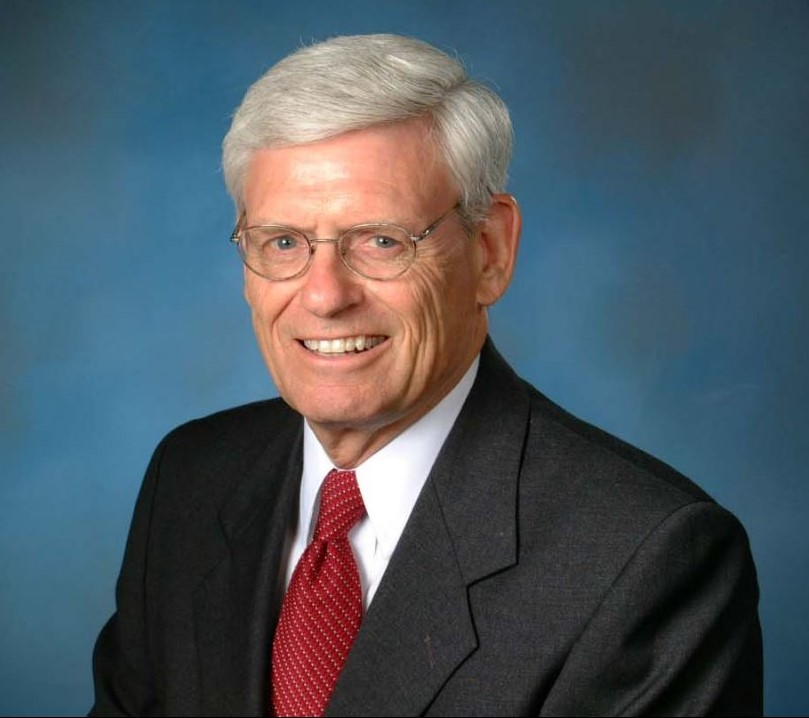 Customers and friends were invited to celebrate 50 years of family ownership of Farmers Bank & Trust during the annual Community Appreciation Event held Thursday, July 8th at Prince of Peace Parish Center.
Farmers Bank & Trust would like to thank customers and communities for their loyalty over the past 50 years, while under the ownership of W.R. and Yvonne Robbins. Farmers Bank also celebrates 113 years of serving Kansas communities since it was established in 1907 by a group of farmers with roots in Albert, KS. Over the years, Farmers Bank continued to expand their roots started in Albert by adding branches in Great Bend, LaCrosse, Bazine, Kinsley and Larned. In 2001, the bank branched east to Overland Park and Olathe, KS. In 2004 the bank expanded their products by adding a consumer internet mortgage division lead by Monte Robbins.
Under the Robbins leadership, the bank has grown in size from total assets of $4 million dollars in 1971 to a milestone of over one billion dollars in 2021. During this same timeframe, the bank capital has also grown allowing the bank to continue servicing customers with varying loan and deposit needs.
Farmers Bank employees consistently aim high according to W.R. Robbins, "Bank employees are instrumental to successful banking relationships by serving customers beyond their expectations in all capacities." According to Robbins, "Bank leadership is outstanding and employees are highly tenured in our bank locations and sectors, all with the flagship goal of supporting customer needs with progressive products and lasting relationships."
With Farmers Bank & Trust being the only locally owned community bank remaining in Great Bend, we are excited for the future. The staff of over 145 employees are honored to work with the community leaders and economic development groups to continue to support all customers within each of the communities the bank serves. Thank you for your support over the years.
New Product Alert
Farmers Bank launches Wire Manager!
External Transfers now available in Online and Mobile Banking! Transfer to and from your accounts at other institutions for quick and easy management of your funds. Log in or enroll in online banking to get started. Setup external accounts in the Transfers section of online or mobile banking.
Advance Child Tax Credit Payments in 2021
To learn more, opt out of advance payments or to use the non-filer tool, visit the IRS website at:https://www.irs.gov/credits-deductions/advance-child-tax-credit-payments-in-2021
Farmers Bank & Trust goes Virtual for Charity Coffee
Farmers Bank & Trust held their 24th annual Charity Coffee this year with 35 charities participating virtually via Zoom. Over $5200 was distributed to local charities in Barton County to assist them with their work in the community at the December 9th event with Robert Rugan, Executive Vice President, conducting the coffee. All participants received funds from either Farmers Bank & Trust and/or stockholder Yvonne Robbins in a variety of donation amounts. A total of $122,000 has been donated over the past 24 years to assist with local charitable functions.
A second virtual coffee was held December 10th in the Larned Farmers Bank with Vice President Travis Thompson hosting. Donations of $1500 were given to charities to help with do their work in Larned and Pawnee County. Throughout the seven years of charity coffees in the Larned community, Farmers Bank has donated $12,900 to assist local organizations.
Farmers Bank & Trust wishes to extend its gratitude to all of the individuals and charities that work so hard to serve our communities. This has been an extraordinary year and your services are more important than ever.
Light Up a Child's Christmas
The Light Up a Child's Christmas project continues through a pandemic.
Farmers Bank & Trust takes pride in our annual Light up a Childs Christmas project, and while we did have to make some adjustments, we are happy to continue to help families in our community. To limit contact and potential exposure, we did not adopt names out this year, but Farmers Bank & Trust employees were able to step up to the challenge and make sure gifts were given to families in need.
Learn more about all the great e-Services from Farmers Bank & Trust
Mobile Banking
Manage your money on the go with your mobile device
Zelle®
Send money with Zelle
Education Center
Links to calculators, financial education & more!
e-Statements
Go paperless to reduce clutter