News
Product Updates, Announcements, Fraud Alerts, Community Events and More! Follow us on Facebook for more financial advice, scam alerts and bank updates.
Teach Children to Save
Its never too early to start teaching children about the importance of saving. That was the message Jason Dellett and Tonia Parker conveyed to a group of elementary students in La Crosse when presenting Teach Children to Save activities. Farmers Bank & Trust employees recently visited several local elementary schools and provided them the opportunity to think about their savings goals and decorate a container for saving toward that goal.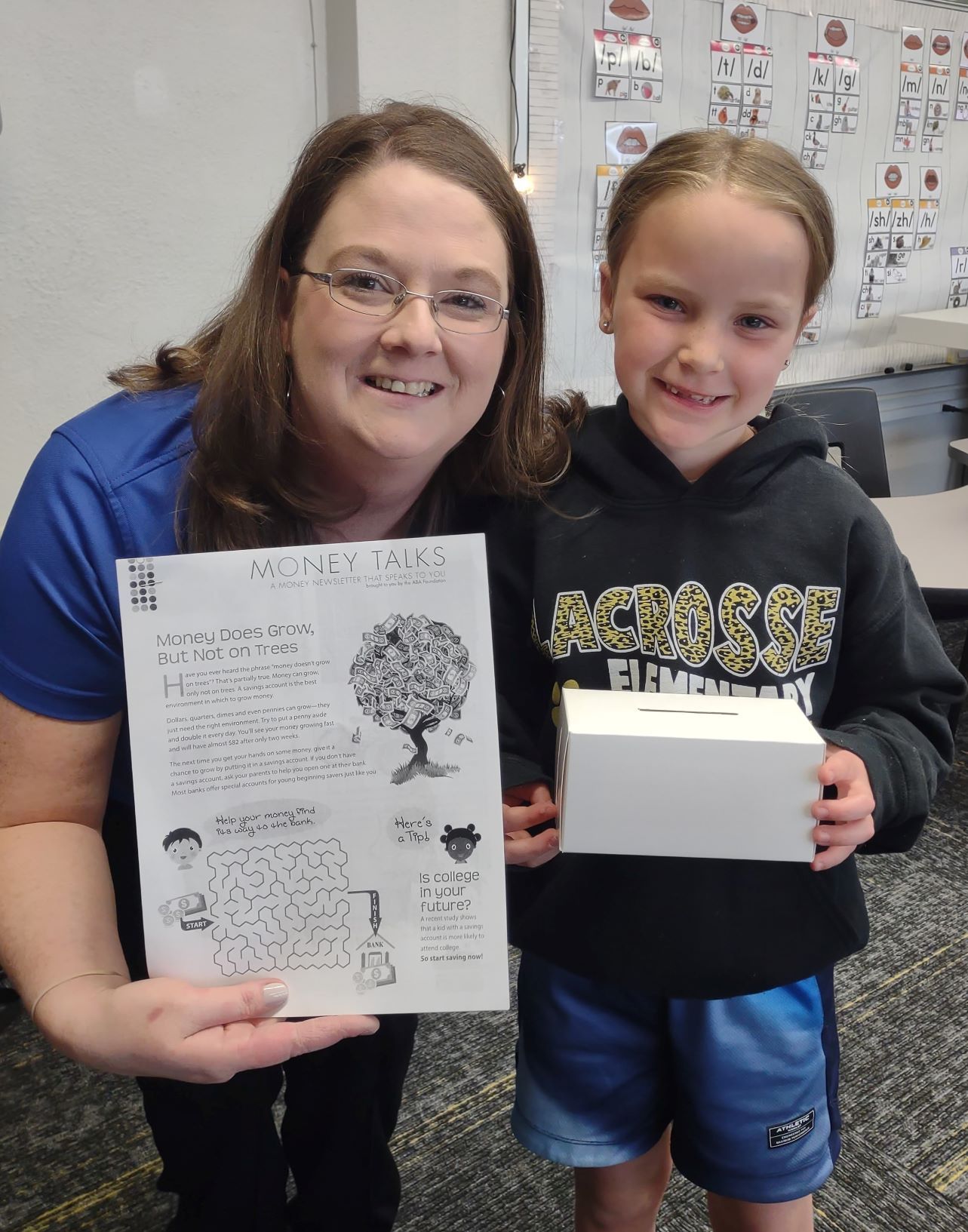 Farmers Bank & Trust employees are happy to speak to groups about a variety of financial education topics. If you are interested in a group presentation, please reach out to your local branch.
Recent Bank Closures and How They Affect Your Bank
Visit the American Banker's Association page Why Your Money is Safer In a Bank
Farmers Bank Hosts 26th Annual
Charity Coffee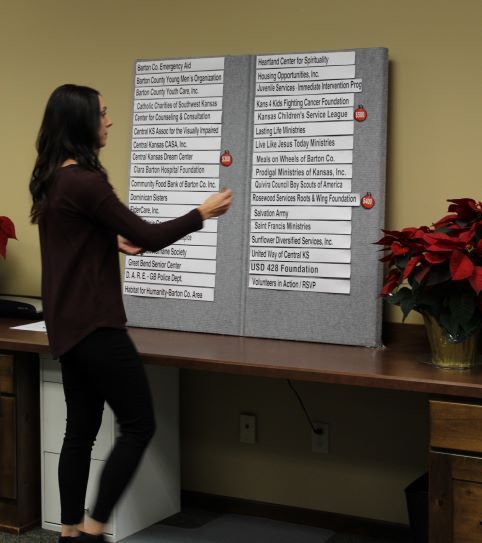 Over 30 local, non-profit organizations gathered in the lobby of Farmers Bank & Trust on December 7th for the annual Charity Coffee. Music presented by Marc and Diana Webster entertained the crowd up until the event began. By the end of the event, $4750 had been given out, with no charity leaving empty handed.
Additional donations were given by Farmers Bank & Trust in memory of former Board Member Grady Bolding to the Family Crisis Center and a donation was given to the Dominican Sisters of Peace by the Robbins Family in memory of Yvonne Robbins.
Farmers Bank & Trust donates to
Central Plains Childcare Network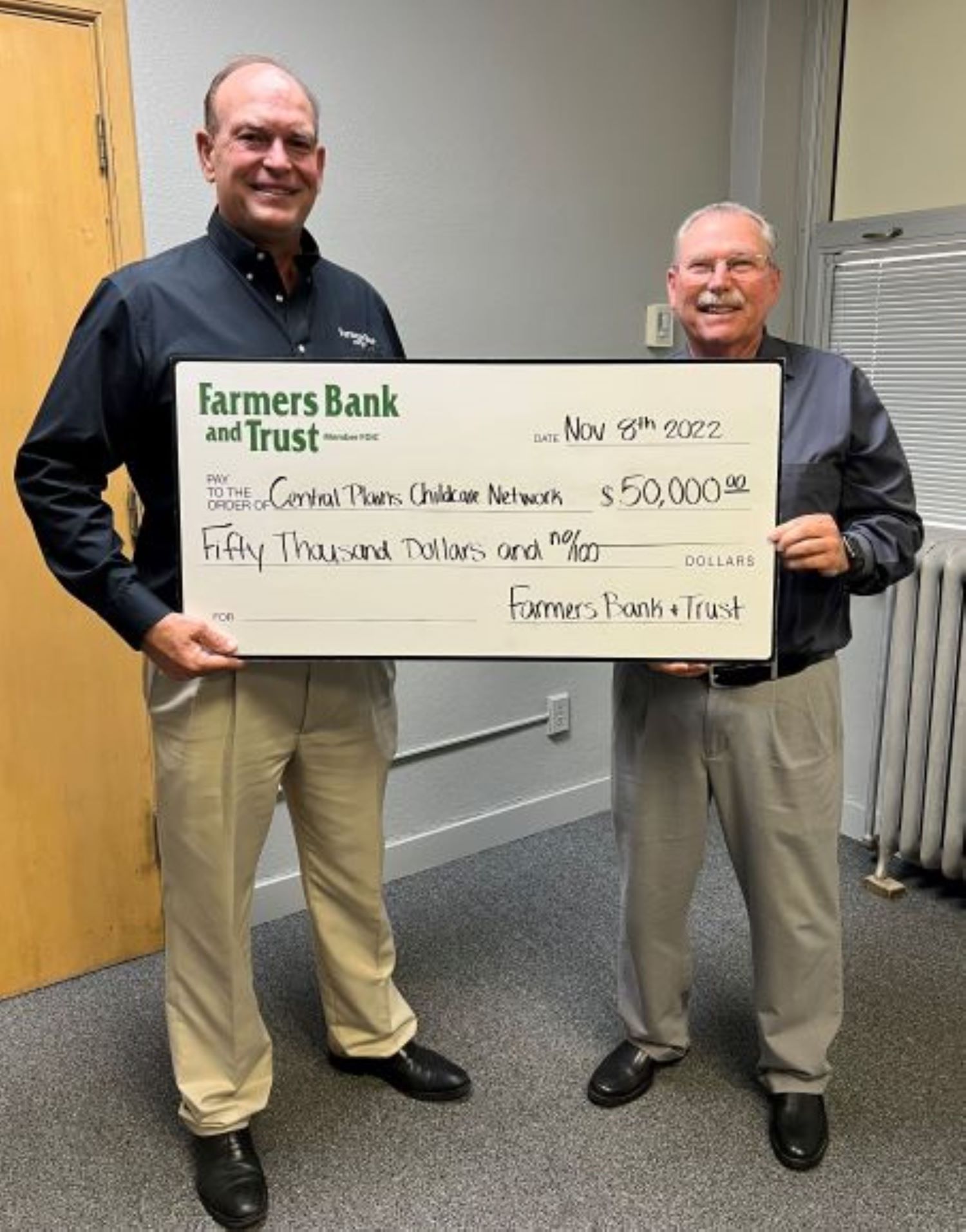 Farmers Bank and Trust is excited about this opportunity for investment in the Claflin Community and other communities we serve. We recognize the challenges faced with child care needs and are honored to be able to assist in this worthy endeavor. In 2021, Farmers Bank & Trust gave a similar donation to the Golden Belt Community Foundation to help address the shortage of child-care opportunities.
Farmers Bank & Trust Announces Scholarship Recipients
Farmers Bank & Trust is proud to assist employees and their families as their dependent students attain educational goals. Under this program, qualified applicants will receive a $500 scholarship on an annual basis, providing up to four years of financial support for under-graduate degrees. Congrats to the scholarship recipients and good luck in the upcoming school year!
Kristy Wittig - Barton Community College
Alicia Enriquez - Barton Community College
Evan Seltmann - North Central Kansas Tech
Olivia Rugan - University of Kansas
Samantha Kleweno - Fort Hays State University
Camron Zerr - University of Kansas
Manasvi Chennareddy - University of Kansas
Farmers Bank & Trust Celebrates 115 Years of Strength and Stability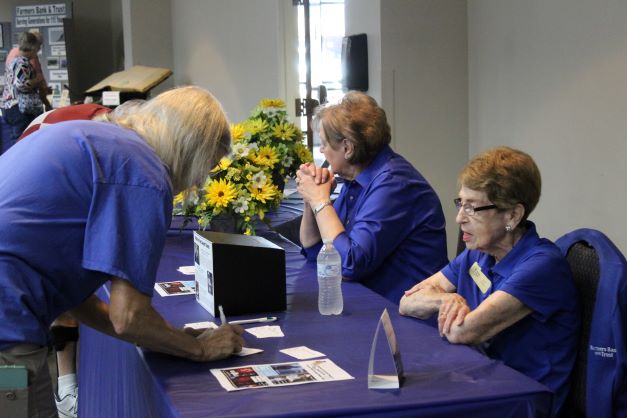 Farmers Bank & Trust celebrated 115 years with Community Appreciation Event at the Great Bend Events Center on July 7th, 2022. This annual event has been a huge success over the years, and a great opportunity to give our gratitude to the community we serve. Sunflower Diversified kept the grill going, as hot dog meals were served to 100's of customers and community members. On display at the event was a history of Farmers Bank & Trust's long legacy including a Ledger Book that was used many years ago to track customer and bank balances.
Farmers Bank & Trust celebrates 115 years of providing personalized solutions to generations of neighbors and friends. The Bank extends a sincere "Thank You" to our customers and communities for letting us serve you throughout the years. Additionally, the Bank wishes to recognize our amazing employees because their passion and interest in going above and beyond for our customers is the key to our success.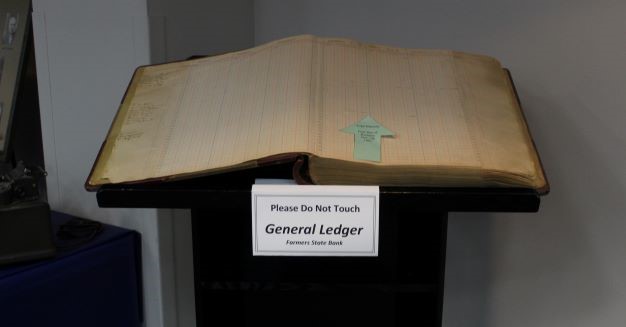 Farmers Bank & Trust 5-Star Rated Bank

Great Bend, KS - April 2022: Farmers Bank & Trust, Great Bend, Kansas has earned a top (5-Star) rating from BauerFinancial, Inc., the Nation's Premier Bank Rating Firm. Banking on the community while its neighbors and friends bank with it has been a winning combination for Farmers Bank & Trust. Working together towards common goals and interests has allowed Farmers Bank & Trust to excel under an in-depth, independent analysis of its financial condition and earn this coveted 5-Star rating. Read more...
Learn more about all the great e-Services from Farmers Bank & Trust
Mobile Banking
Manage your money on the go with your mobile device
Zelle®
Send money with Zelle
Education Center
Links to calculators, financial education & more!
e-Statements
Go paperless to reduce clutter